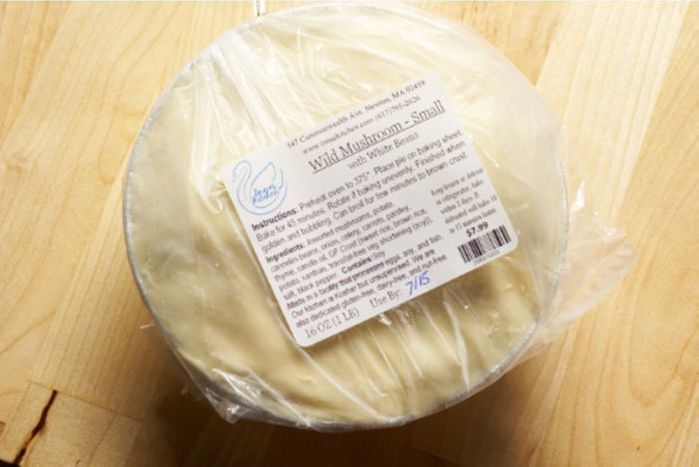 Wild Mushroom Pot Pie - Small
$9.99 each
---
Not-so-small pot pies, these weigh one pound each (16oz), twice as big as most grocery-store individual pot-pies.

For mushroom lovers, made with a variety of wild mushrooms and white beans. We go minimal on salt and spices so there is room to add your own. Suggest egg-washing (with whole egg or just yoke) with a pinch of salt or adding your own seasoning at the table. Bakes in about 45 minutes from frozen. Crust is only on top, and while crust is gluten-free you wouldn't know it! Vegan and free of most common allergens (gluten, nuts, dairy, eggs, corn, soy).

Ingredients: Assorted mushrooms, potato, cannelini beans, onion, celery, carrots, parsley, thyme, canola oil, gluten-free crust (sweet rice, brown rice, potato, xanthan, palm oil, natural vegan butter flavor, turmeric for color), salt, black pepper.

Made in our Newton Culinaria, our production kitchen, which is dedicated gluten-free, dairy-free, and nut-free. Most vegetarian items are also vegan. We go minimal on the salt so there is room to season to taste.