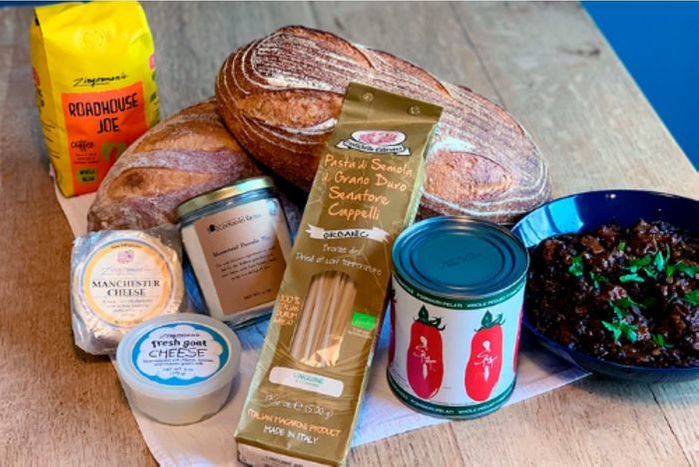 Available for pre-order.
This item will be available May 29, 2020.
We gather up different offerings every week from Zingerman's Bakehouse, Deli, Creamery, Coffee, Roadhouse, Cornman Farms, Candy and Miss Kim. We carefully pack them into one big box. You pick it up, unpack and eat well all week. If you like, you do it again, the next week.

What's in this week's box for May 22nd?.....

Angel Food Cake & Baguette from the Bakehouse; 1 qt of Cream of Asparagus Soup from the Roadhouse; Taralli Crackers and Thursday Cottage Orange Marmalade from the Deli; 1 Liter Cold Brew from Coffee; Pesto Pasta Salad from Cornman Farms; Pint of Gelato and 6oz cup of Goat Cheese from Creamery; 8oz Bag Chocolate Covered Cashew Brittle from Candy; Korean BBQ Galbi Marinade w/ Recipe from Miss Kim.

Some of it is ready to eat as is; other items need to be cooked. Enjoy!

Order by 1pm Wednesdays. Pickup or delivery on Fridays from 1-5pm at Zingerman's Creamery.