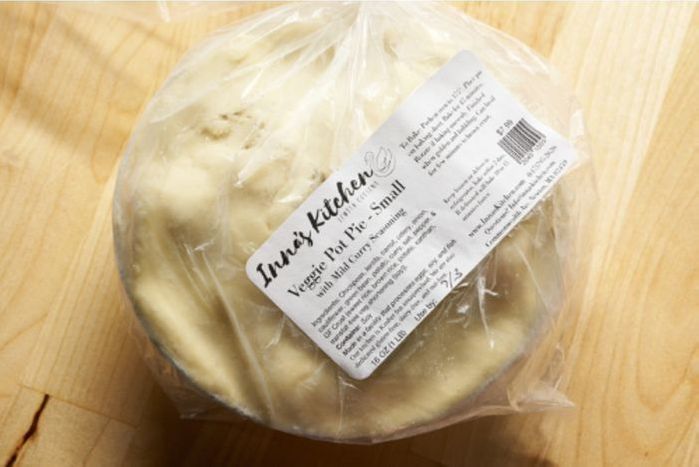 Lentil & Chickpea Pot Pie - Small
$9.99 each
---
Not-so-small pot pies, these weigh one pound each (16oz), twice as big as most grocery-store individual pot-pies. Made with lots of lentils and chickpeas and mild curry seasoning. We go minimal on salt and spices so there is room to add your own. Suggest egg-washing (with whole egg or just yoke) with a pinch of salt or seasoning at the table. Bakes in about an hour from frozen. Crust is only on top, and while crust is gluten-free you wouldn't know it! Vegan and free of most common allergens (gluten, nuts, dairy, eggs, corn, and soy).

Ingredients: Chickpeas, lentils, carrot, celery, onion, cauliflower, green bean, potato, curry, salt, pepper, & gluten-free crust (sweet rice, brown rice, potato, xanthan, palm oil, natural vegan butter flavor, turmeric for color.)

Made in our Newton Culinaria, our production kitchen, which is dedicated gluten-free, dairy-free, and nut-free. Most vegetarian items are also vegan. We go minimal on the salt so there is room to season to taste.